"Do not pass go, do not collect $200", doesn't this phrase sound just familiar? Of course, its from the world's best selling boardgame in the world. With over millions and millions of copies sold (over 200million), Monopoly has become a household name and is sold in over 80 countries and in 26 different languages.

Here is a brief history of Monopoly taken from Hasbro's website.


It was 1934, the height of the Depression, when Charles B. Darrow of Germantown, Pennsylvania, showed what he called the MONOPOLY game to the executives at Parker Brothers. Can you believe it, they rejected the game due to "52 design errors"! But Mr. Darrow wasn't daunted. Like many other Americans, he was unemployed at the time, and the game's exciting promise of fame and fortune inspired him to produce it on his own.

With help from a friend who was a printer, Mr. Darrow sold 5,000 handmade sets of the game to a Philadelphia department store. People loved it! But as demand grew, he couldn't keep up with all the orders and came back to talk to Parker Brothers again. The rest, as they say, is history! In its first year, 1935, the MONOPOLY game was the best-selling game in America. And over its 65-year history, an estimated 500 million people have played!

* Over 200 million games have been sold worldwide.
* More than five billion little green houses have been "built" since 1935.
* A set made by my friends at Alfred Dunhill, with gold houses and silver hotels, sold for $25,000.
* The longest game in history lasted 70 straight days.
* The longest game in a bathtub lasted 99 hours!

The MONOPOLY game is so much a part of today's popular culture that my lawyers have trademarked many of its graphic elements. The tokens, Railroad, COMMUNITY CHEST, CHANCE, and Title Deed designs, as well as BOARDWALK and all four gameboard corners are legally protected.

Contrary to what you just read, I heard that the
true creator of Monopoly
didn't get a single cent out of it. Who knows, or could it be just another
urban legend
?
Ok, so what have been going on and on talking about
Monopoly
after playing
Eurogames
and being a judge at
GameCon-1
? Well something caught my eye last night while I was shopping at
1 Utama
.
Yes, it is a life-size Monopoly! Huge isn't it? Why am I getting all excited over it? Well I am not. Just that I happen to walk by it when I was heading towards the parking lot.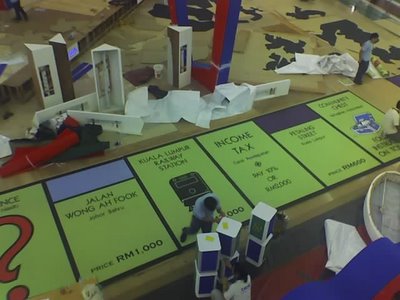 Sponsored by
Hasbro
and
Nokia
, I really wonder what this exhibition is all about? Will it be played? Will there be a competition? How are we going to throw the die? Will it be the size of a exercise ball? Are there any prizes?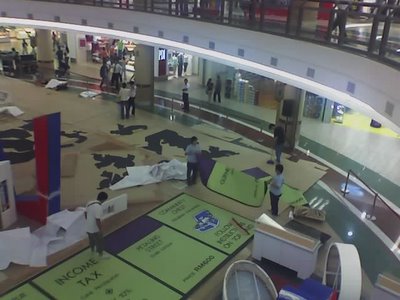 If you look really close, it seems that this version is our very own local version with many local locations. It is not really centered on any city here in Malaysia but rather more of it as a whole because I think I did see Langkawi somewhere on the board.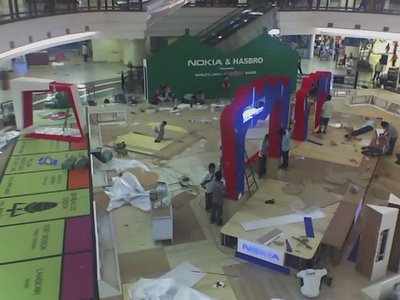 Somewhere at the bottom left corner of the image above. Anyhow it did fascinate me, although many small things like an arcade centre might fascinate me for quite a bit.
Monday on the other hand was good because I managed to learn to play a new game called
PowerGrid
thanks to Boon. I believe the game was very tactical and lots of future planning is needed in order to win. Its a game I definitely want to play again!